Yelp Daycare Reviews
« Back to Testimonials and Reviews. Here is our actual Yelp listing and reviews. We also have some nice reviews on Google+ Local, Insider Pages, CitySearch, Yahoo Local, Angie's List, and Care.com.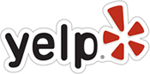 Jessie T.
5 Stars
Building Blocks Home Daycare has exceeded our expectations. We are so happy everyday that we found them. They take such amazing care of our daughter. They have showered her with hugs and cuddles since the day she arrived. The attention to detail, creativity, suggestions (solid foods, toys, sleeping positions, Baby Einstein, etc) and play environment are beyond what we could have hoped for. Their loving and caring home is the reason I feel comfortable being back at work. A day doesn't go by, that I don't sit at my desk and think the only reason I can be here and not at home is because I trust our daughter is having a wonderful time, is safe and so well cared for. In our eyes, Eric & Jamie are masters at what they do! The combination of their professional and parenting experience placed in their unique home/daycare setting is a magical mix. We are so happy that we were able to get our daughter in their program and keep her so close to our house. Thank you for all you have done!
* * * * *
Malissa K.
5 Stars
When you raise your child at home for the first 14 months of their life it's hard to consider finding another person to take over and do just as good as a job as you do. Luckily, we found two. Jamie and Eric are amazing people- warm, welcoming, funny, trustworthy and most importantly- loving. I was always turned off to the idea of daycare because I imagined my son just sitting in the corner of the room playing by himself and not getting any one-on-one attention, but with Building Blocks I did not have to worry about that. I loved having my son in a small, intimate environment (rather than a large, sterile classroom environment) and Jamie and Eric were very catering to my son's needs. He's a very shy boy so they were able to give him the nurture and attention that he needed to excel socially and break out of his shell. Now he is a social butterfly with a heck of a vocabulary :)
Another great thing about BB is that you can easily be in touch with Jamie and Eric through out the day. I loved being able to text them and have an immediate response. They also send pictures of your little one so you can get a glimpse of what they're up to that day, which is very easing to the mind the first couple of weeks you send your kid to daycare!
Thanks J&E for all the care, fun, laughter and education you provided for our son. You've made our transition to preschool much easier and way more enjoyable!!
* * * * *
Eddie A.
5 Stars
Let me start by saying as my wife was still preg and looking at daycare's, I wasn't really concerned about were my daughter was going to end up. I figured they were all the same and any one would do. With that said THANK GOD my wife was much more diligent about finding a place for our unborn daughter than I was.
As a teacher herself, finding a place that would nurture and teach our baby rather than just watch her was VERY important.
After almost 2 year with Jamie and Eric I am So happy that my wife did the work. Our daughter is so happy everyday going to school loves her time there and talks about Jamie and Eric as if they are part of the family (as far as I concerned they basically are). I know that my daughter is going to be a well rounded, social and eager learner when she finally moves on to preschool because of the time she has spent @ build blocks with Jamie and Eric.
I would suggest to anyone who wants the best place in SD to love and nurture their child, call Building Blocks get on the list, make the drive do whatever you have to do to get in. You and your child will sleep better at night because you did.
* * * * *
Joe M.
5 Stars
Building Blocks is the best! Our son was well cared for and exposed to the wonderful world of learning with Eric and Jamie and had a great time with all of his "classmates" in doing so. We were involved with Building Blocks from the time our son turned 2 until he was ready for Pre-K at age 4.
When our son got to Pre-K he was well taught in both the social and academics of formal schooling and integrated within his new learning environment with ease.
We could not have asked for a better experience and our boy is still best friends with their family!
* * * * *
Laura L.
5 Stars
When I first walked into Building Blocks, it just felt right. Jamie and Eric are amazing, welcoming, caring, and nurturing. I am so lucky to have found them. When my son moved from there to preschool, the teachers were amazed at how much he had already learned with Jamie and Eric. Besides learning so much, the group at Building Blocks took nature walks, played fun games, created cool art projects, and developed close friendships.
I can't say enough about how much Jamie, Eric, and the daycare have meant to our family. I would recommend them to everyone!
* * * * *
Shawn J.
5 Stars
We are very careful about who we leave our kids with, and we absolutely love and trust BBHD. They have a "curriculum" that they use which mirrors what is taught in pre-school...ABC's, numbers, geography. They have a huge yard with plenty of outdoor activities for the kids. They are extremely professional, yet are SO caring about the well being of the kids that they work with.
Being first time parents, we don't always know what to do as experiences happen with our toddler. They are the first people I will ask for advice. They are also great at bringing to our attention potential issues as they see them.
We just had our second son and I hope that when we're ready that they will be able to take care of him as well. I would recommend BBHD to anyone who is looking for a caring, professional, top quality daycare/preschool.
* * * * *
Kim G.
5 Stars
When I began to look for daycare for my daughter in 2011, I spent months researching providers in North County, talking to friends and reading online reviews. I was very attracted to the website for Building Blocks and I looked at it many times before I made the call to Jamie. After all the research, I only had two daycares on my list to visit. My second stop was Building Blocks and my search ended! Many parents know that finding daycare is stressful and leaving your child can be agonizing. I just had that feeling that Building Blocks was the right place.
There are no words to describe just how awesome Jamie & Eric are. They run their business with love and professionalism. I cannot begin to express the gratitude I have towards them for caring, loving and enriching my daughter's life. They provide a safe, structured, nurturing, loving & fun environment for kids! The kids are always happy and they love Jamie & Eric. Part of who my daughter has become has been influenced by Jamie's fun loving attitude for life and I love it! Jamie & Eric have perfectly balanced styles that generate a versatile and effective environment for kids to learn & have fun! I cannot say enough great things about them.
Outside of your own home, you will not find a better place where your child will actually be loved and cared for!
-Kim
* * * * *
Lisa M.
5 Stars
Building Blocks was the first place we checked out. Being our first child we didn't really know what to expect. Right off the bat my wife and I were impressed by Jamie and Eric's set up and their comfortable nature with us and the children. But we wanted to look at other places (both preschools and home daycares) to get a better idea of what our options were. Well that's when we realized just how truly special a find Building Blocks was. Immediately we phoned Jamie and crossed our fingers the spot was still available, and thank god it was. Two years later we couldn't be happier with our past decision. We feel so welcome in their home, our child has grown in such a positive way, she has made so many friends, and Jamie and Eric run their business like true professionals. If your lucky enough to find an open spot at Building Blocks Home Daycare be sure to jump on it.
Thanks Jamie and Eric for all your patients and hard work you give to the children each day. I have such a sweet and well balanced daughter, and I owe such an important part of that to you guys. I feel so blessed to of found you. I hope nothing but the best for you, your family, and your continued business success.
* * * * *
Alison L.
5 Stars
On the way home from a birthday party at Chuck-E-Cheese today my son said "I like school much much better than Chuck-E-Cheese".
I can't express how thankful we are to have found such warm and loving environment for our two sons, 2 and 3yrs old. We appreciate the great care and love they provide for our kids. Not to mention the great deal of attention they pay to make sure the kids are learning all day through play and activities.Our youngest just turned 2 and sings his abc's and counts to 10! We are so proud to have our kids at Building Blocks Home Daycare, Chuck-e-Cheese has nothing on you guys!!!
* * * * *
Michelle S.
5 Stars
ABSOLUTELY THE BEST! When I made the decision to go back to work, we agonized about finding the perfect place to take our then 8 month old baby. We wanted a place that would be enriching and educational, but would also provide one-on-one and group play.
Jaime and Eric are the best of both worlds! Providing the structured environment of a state-certified child care center, but also the nurturing, hands-on care of an at-home facility. They are awesome and I CANNOT say enough good things about them Our daughter has FLOURISHED in their care. Learning to play with others, feel confident away from her parents, and overall be more comfortable outside her home. Jaime and Eric made my decision to go back to work much less stressful knowing my precious baby was in the best, most loving care possible. I look forward to her growing up there with the other babies and moving up to their preschool curriculum for the older kids.
My baby LOVES them and I can tell by the pictures they send that she is having fun and learning every day. Their level of communication is above and beyond the norm and they help each parent feel confident in the people taking care of their most precious joy.
* * * * *
Suzi C.
5 Stars
One word - AWESOME! My husband and I are extremely pleased with the care our son has received at Building Blocks Home Daycare. The level of communication is top notch. In fact, "communication" is much to rigid of a word to describe my interaction with both Jamie or Eric. Fun and pleasant conversation with my newly considered friends is more like it. They are genuinely real people. They are both honest, trustworthy, and a caring individuals. The peace of mind they give us is priceless.
* * * * *
Michael G.
5 Stars
My daughter loves it here and we can't say enough about Jamie and Eric. Much more personal than other daycares we have used.
* * * * *
Feeney F.
5 Stars
We have had Jamie and Eric care for our two daughters (now 4.5 and 7.5) for the last 2.5 years. Their care has been fantastic! Not only is the daycare spotless (they build an addition to their house that includes three separate rooms, a kitchen and bathroom), they provide healthy meals (breakfast, lunch, snacks) and provide a fun, and engaging preschool curriculum. She follows monthly lesson plans, with themed crafts. Both Jamie and Eric are fantastic about keeping an open line of communication between parents and we always know how our child is feeling that day or in general. I have grown to appreciate both Jamie and Eric's friendship over the years and could not recommend them enough!
* * * * *
Jamie B.
5 Stars
WOW! It doesn't get any better than this place. Jamie and Eric the owners are exceptionally fun people who love to engage the children in fun activities. Everything is super clean. Once you walk in, you don't even feel like you are in someone's home. They have added on to their home and made a separate area for the day care only. It is super cute with the kids having their own lockers and the daycare even has its own separate kitchen. The back yard is huge and always has beautiful green grass for the kids to play on, along with their many outside play structures. I am a local vendor that visits this day care often. I get to see many different preschool and home daycare and this place far surpasses all of the others!
* * * * *
Michelle R.
5 Stars
I had just moved to the area when I decided to look for childcare for my two and a half year old daughter so that she would have some social interaction two days a week with other children. What I got was so much more! Jamie and Eric, the owners of Building Blocks Home Daycare, are so amazing with the kids. They provide a nurturing and loving environment with a curriculum fit to prepare my child for preschool and beyond. My daughter's class is small, 6 kids or so, which gives her the attention she needs. But what impresses me most is that every time I drop off or pick up, Jamie and Eric are always on the kids' level reading a book, playing with legos, or helping to solving a problem. Knowing my daughter can't wait to go to preschool every week puts my mind at ease with the choice I made to send her to Building Blocks Home Daycare.
* * * * *
Lori T.
5 Stars
I recently moved to Carlsbad and I have small children. A girlfriend of mine referred me to Building Blocks Home daycare. When I met with Eric and his wife I couldn't be more pleased with their daycare facility and ideas. Being a single mother you're always concerned about your kids safety. Leaving my daughter at building blocks home daycare made me feel very comfortable. The daycare is very clean organize and I happy place to be. My little girl loves going there. I would refer anybody to this home daycare.
* * * * *
Wendy K.
5 Stars
Building Blocks is an exceptional preschool! Our daughter started BBHD at 6 months. Jamie and Eric are just lovely people who are just wonderful with children. Our daughter was exposed to a positive environment and learned so much in her short time there. The only reason our daughter no longer attends BBHD is because we moved across country. Otherwise she would have stayed until she was ready for preschool.
I highly recommend BBHD if you are looking for a Home Day Care in the North County. BBHD truly care about the children and do a great job communicating with the parents. BBHD is a great start for your child's bright future :)
* * * * *